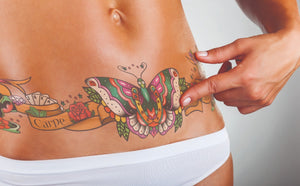 Carpe Diem Abdominal/Mastectomy Tattoo
Sale price Price $16.99 Regular price
Feel care-free wearing this traditional Americana-inspired design; Carpe Diem is an evenly balanced design providing full coverage; Richly glows with a stunning emerald and magenta butterfly encompassed by a gold banner, red roses and navy black sparrows. Can work for abdominal or mastectomy scars!
Length: 39.4 cm/ 15.5 inches
Width: 7.6 cm/ 3 inches.